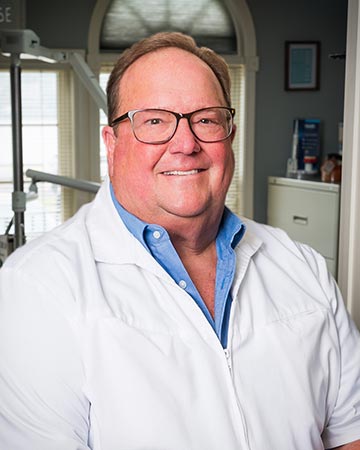 A true Jersey Shore native, Dr. Nobile has been treating patients throughout our region for the past 40 years. He grew up in Asbury Park and completed his undergraduate degree at Rutgers University. After earning his D.D.S. at Georgetown University School of Dentistry, he returned to the area to complete his residency at Jersey Shore University Medical Center. As part of Dr. Nobile's commitment to staying up to date on the latest treatment advances, he pursues 50 to 150 hours of continuing education each year.
Dr. Nobile's focus on excellent care extends beyond his patients to the community and to future dentistry professionals. In fact, since he began his practice, he has taught dental residents at Jersey Shore University Medical Center in Neptune, where he also served as Director of the Department of Dentistry for nine years and President of the Medical and Dental Staff for three years.
As the sole dentist in his practice, Dr. Nobile brings distinct advantages to his patients. You can rest assured that you'll receive the same high level of care each time you visit our office. Dr. Nobile gets to know each patient, offering personalized care that includes follow-up calls after complex procedures. It's part of why many of his patients have been coming to him for expert dental care for the past 10 to 20 or more years.
Dr. Nobile presently resides in Interlaken. His interests include restoring 1960s and 1970s sports cars, traveling, cooking and, of course, spending time at the beach.
At a Glance
Education and Training
A.B. in chemistry from Rutgers University
Graduate student in Chemistry at Rutgers
D.D.S. from Georgetown University School of Dentistry, magna cum laude
General Dental Residency at Jersey Shore University Medical Center
A member of the Continuing Dental Education Seminar Series at Jersey Shore University Medical Center since 1980
Service at Jersey Shore University Medical Center
On staff teaching dental residents since 1981
Department of Dentistry Director for nine years
Current Director of Section of Prosthetic Dentistry (crowns, caps, dentures, etc.)
Officer of Medical and Dental Staff for 15 years
President of Medical and Dental Staff from 2000-2002